There's More to Kitchen Displays than Just Monitors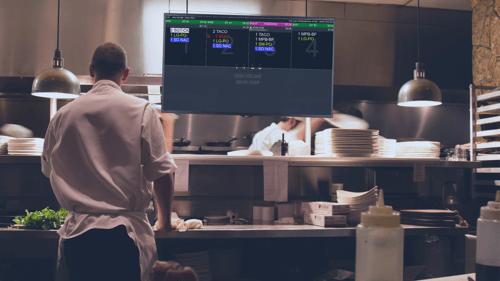 Kitchen monitors are only as powerful as the systems that operate them. The programs built into the system the displays operate from, are the keys to driving kitchen efficiency. Maximizing this kitchen efficiency in a user-friendly way should be a staple with kitchen display systems. This isn't accomplished by simply installing a monitor and using a basic off-the-shelf program. It's accomplished through customization and integration of a system that meets the individual needs of each operation.
The reason why QuikServe's kitchen display are leading the industry is simple, we create a custom experience based on each store we install them in. Our display systems are customized to feature:
Food item consolidation to conserve space and expedite food prep during peak restaurant hours
Display formats to meet the needs of each kitchen process
Filtering by customer, terminal, destination, item category or menu item, on a per monitor basis
Adjustable modes which provide efficiencies for:

Food Prep: Food items are listed out and consolidated by items needed
Bagging: Food items are listed under their hierarchy and by what food items below on each tray or to-go bag
On the fly: Each item wrung up on the POS will be sent immediately to the kitchen display vs waiting for the entire order to be finalized (On-Total Mode)
Our state of the art quality control facility at the QuikServe headquarters, tests every possible scenario through a rigorous stress test process to ensure our systems overachieve expectations when used in QSR establishments across the globe.
To learn more or schedule a demo, contact our team at 402.933.5296 or quikservesolutions@quikserve.com. You can also visit us at www.quikserve.com.