Increase in Drive-Thru Traffic and Digital Menu Boards
Posted on
August 17, 2020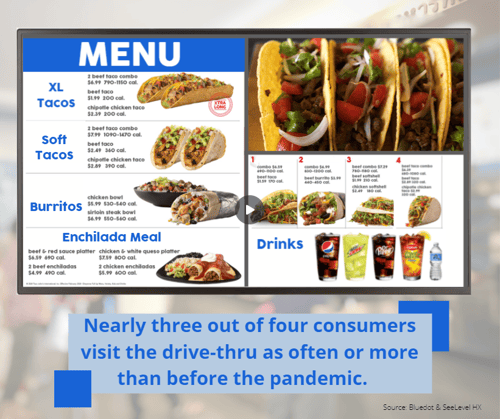 One of the trending sectors in the quick service restaurant industry is digital menu boards. As the number of people visiting drive-thrus increases due to the coronavirus many business are taking a step back to evaluate how they can improve their drive-thru operations and increase sales.
Apart from the fact that digital menu boards will greatly increase the aesthetic of your restaurant they also generate many more advantages to your business and operations. Here are six advantages of digital menu boards.
1. Upsell, upsell, upsell!
This is probably one of the best advantages for your business because it will have a direct impact on your bottom line.
Digital menu boards allow you to display complimentary or high-margin items in a more prominent way. This has the chance at increasing ticket price, for instance you could display 'upgrade to steak' or 'add guacamole'. In addition, the high resolutions screens create a more appetizing view of your menu items as opposed to old, fading static images.
2. Limited time offers, hold the hassle.
We live in a demanding consumer-based world so it is no surprise that QSR's are constantly changing their menu items with seasonal promotions and limited time offers. These frequent changes use to come at a cost and a hassle.
With static boards you have to pay for the printing of new menus and advertisement inserts. On the flip side digital menu boards allows you to have the option to automatically manage menu items and promotional campaigns remotely. Say goodbye to printing, the trees of the world will thank you.
3. Eliminate errors and easily make adjustments.
Since we were on the topic of printed menus...have you ever found yourself in a situation where you got something printed only to notice a spelling error? This headache is completely eliminated with digital menus because you can easily fix any errors you may find!
Sometimes only small changes need to be made to the menus, such as pricing or nutritional information. Digital menu boards give you the flexibility to make whatever changes, big or small, you may have at any given time.
4. Automate display based on time of day.
This advantage may seem small but in the fast food world time is money. Digital menu boards allow you the opportunity to automatically schedule when the menus will change from breakfast to lunch. Saving you the burden of having employees manually do it.
This automation could also be a great feature to target certain demographics based on time of day. For example, maybe you want to start creating a late night menu with different items targeted towards the younger generation who stays out later and are more likely to come to your drive-thru. Automated menu changes make this possible and much easier.
5. Make a profit off of entertainment.
My Social Media Network reported that customers are 144% more likely to buy a product when it is featured in a video.
Digital menu boards allow you the opportunity to incorporate videos on your menu or on a support super graphic advertisement screen. You can decrease your customers perceived wait time by entertaining them with videos while in line. In the process of entertaining them with video you may also influence them to buy extra items or higher margin items.
6. Brand consistency.
The great thing about digital menu boards is you can manage several locations from one place. This will help you ensure that all of you restaurants are consistent across the board with the latest menu updates. Last minute changes? No need to scramble all over the place to make sure every store is complying. Digital menu boards make it as simple as the push of a button.
---
As you can see there are many advantages of digital menu boards they can be a great investment to your quick service restaurant and have the potential to increase your overall revenue.
At QuikServe Solutions we make the process of switching to digital menu boards hassle-free. Our digital menu board technology is powered through PING HD and has been put through rigorous testing in our quality control lab, as well as field-tested on-location. All Digital Menu Boards are set up, configured, and staged, before our experts come out for installation.
To see a demo or to learn more contact us at info@quikserve.com or 402.933.5296