How Your Restaurant Can Adapt Amid COVID-19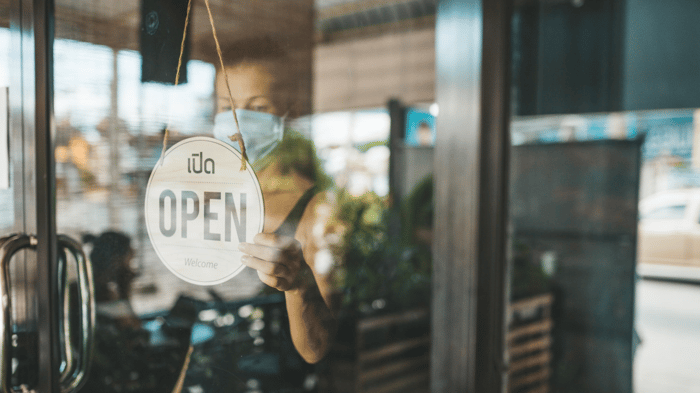 March 2020 is a month that no restaurant operator or owner saw coming. The impact of COVID-19 has been felt across the nation and the restaurant industry is feeling the hit to their bottom line. Restaurants thrive on serving people and bringing people together, but now more people are opting to stay home and self-isolate to slow down the spread of this disease.
Restaurant owners and operators are finding new ways for their business to adapt amid COVID-19 so they can continue to serve their customers and provide the best they can for their employees.
How to Care For Your Employees
Unfortunately, COVID-19 is taking a toll on the workforce, especially those in the restaurant industry. Restaurant operators are faced with the challenge of keeping their employees with jobs and keeping them safe while on the job.
Many restaurants have temporarily lost the dine-in section of their business, which is impacting the employees who frequently work those areas. One option would be to give your front of house team the chance to assist with delivery, curbside and to-go orders if your restaurant is still offering those services.
The top way to keep employees safe during this time is by keeping your workplace clean. Make sure you and your employees are following the sanitation and safety regulations that have been put out by the CDC.
Every restaurant and business will have its unique challenges during COVID-19. It is important that as a community we continue to show up and support each other in any way possible.
How to Increase Your Customer Traffic
It's no surprise that customer traffic to restaurants has decreased since the outbreak of the pandemic. According to the National Restaurant Association, in the last three weeks, the restaurant industry has lost $25 billion in sales. This is a devastating outcome for operators, owners, employees and partners of the industry.
Now restaurant operators are taking on a huge task to get the communities involved with their business during a time when everyone is being told to isolate.
We have compiled a list of different ways your restaurant can navigate this challenging time and still engage with your customers to create a great experience and increase traffic.
1. First and foremost you should promote to the public that you are following sanitation regulations and that the health and safety of your customers and employees are of your utmost priority.
2. If possible, now is the time to implement online ordering and delivery at your restaurant.
3. Create special social media campaigns or promotions to get people involved with your brand. More people are mindlessly scrolling on social media platforms more than ever due to being stuck inside. Use this to your advantage and post several times a day to keep your brand in the minds of your customers.
4. Offer family meal specials. This is sure to be a hit amongst families who have been cooped up in the house together for weeks. You could even make the meals interactive where children can create their own. (For example, taco kits or build your own pizza)
5. Execute your to-go orders accurately and add some extra touches. Consider writing personal notes on to-go containers or bags thanking your customers for their support. A little appreciation goes a long way.
6. Customer service. Since restaurants are part of the service industry it has always been important to provide top-notch customer service. But this is even more crucial now. Restaurants can't afford to lose customers. Make sure your employees are going the extra mile to create the best experience for your guest, even if it's in the drive-thru.
7. Sell gift cards during this time. If you can, offer a free drink or a small menu item for customers who buy gift cards.
8. Highlight customer and employee stories on your social platforms. Brighten up this dark time with some feel-good stories that may have happened with a customer or staff member at your restaurant. The world could use some happy news right now.
We're In This Together
The next couple of weeks and months will continue to be a challenging time for the restaurant industry. But this industry is made of some of the toughest and most compassionate people around. Times like this will unite communities for the common good of all. We are in this together. We will come out of this together.
For more information and helpful resources please visit the links below.
CDC COVID-19: https://www.cdc.gov/coronavirus/2019-nCoV/index.html
CDC Resources for Businesses and Employers: https://www.cdc.gov/coronavirus/2019-ncov/community/organizations/businesses-employers.html
National Restaurant Association: https://restaurant.org/covid19
Small Business Resources: https://www.sba.gov/page/coronavirus-covid-19-small-business-guidance-loan-resources