Create Customer Experience with Digital Menu Boards
Posted on
November 22, 2019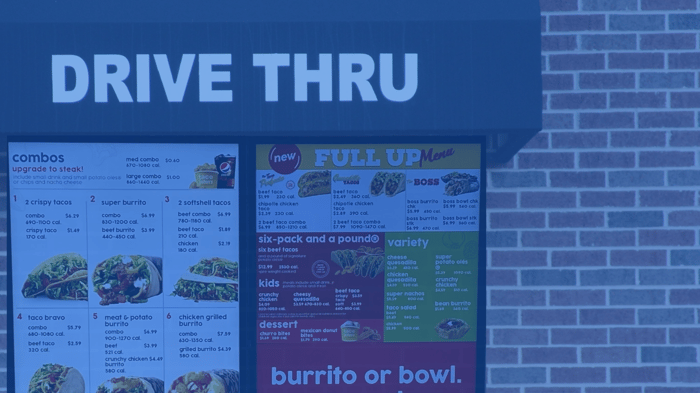 The new Chief Digital Officer for Dell, Jennifer Felch, recently said, "We must create compelling and efficient experiences for our customers and team members. This often requires us to transform our traditional processes into digital processes, where there are no delays due to manual intervention, batch processes or legacy infrastructure."
Most restaurants started off with printed menus and posters displaying advertisements or seasonal items and some restaurants still use these. While printed menus and ads are effective at displaying necessary content they fail at creating an experience for your customer, which can directly impact your sales.
2020 is right around the corner and digital technology will only become more and more prevalent in the upcoming years especially in the fast food industry. In order to keep your restaurant on top, it is imperative that you consider the implementation of digital menu boards and super graphic screens in your restaurant if you haven't already.
Technology can oftentimes feel like a scary investment. As a business person, you want to see the statistics on how something can benefit the company. Here are a couple of quick stats from a study that Nielsen Research conducted on digital signage and advertising:
300% increase of sales when aided by a promotion.
68% agreed that digital advertising would influence their decision to buy the advertised products in the future.
44% agreed that advertising on a screen has "influenced them to buy the advertised product instead of the one they planned to buy."
As you can see a digital menu board can be just what you need to increase sales at your restaurant because it allows for items to be displayed in a high-quality way to trigger impulse buys from your customer.
For example, you have a person who comes into your restaurant and they think they want two tacos and a medium drink but while they were waiting in line they were being entertained by your super graphic screen which is displaying several new menu items. By the time they get to the cashier, they have changed their mind and now they want your new supreme burrito, a medium a drink and your seasonal dessert special. Congratulations! Your customer just went from a $3.50 order to a $6.00 order, all because of your enticing video advertisements that were too good to resist.
Now let's say this kind of impulse buy happens to 150 people per day, in no time you will be seeing an increase in sales all thanks to digital technology that is entertaining your customers with video advertisements while they wait in line.
If you are ready to take the dive into the digital world contact QuikServe Solutions today for more information.